The Valley Apple Days
Tuesday 28th, 12.30 - 6.30pm and Wednesday 29th September, 12.30pm – 4.30pm
Recommended 50p donation for every litre juiced

2-pint freezable bottles, 50p each

About the Event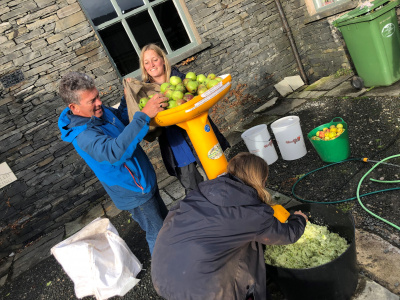 Bring Your Apples for Juicing:
If you are bringing apples to process, you will need to bring your harvest and enough clean containers to take your juice away. Your apples should be free of major bruises, but they can be small/knobbly and there is no need to wash and peel. Around 2.5 kilos of apples (a supermarket bagful) makes 1 litre of juice, and cooking apples make just as delicious a juice as eating apples do. If you have no containers, we will have a limited supply of freezable plastic bottles available for sale on the day. No need to take away your own pulp if you take part, we will compost it for you at
Lawson Park
.
Recommended 50p donation for every litre juiced. Freezable plastic 2-pint bottles available for sale on the day for 50p each, but we encourage everyone to bring their own.
No need to book, just come along between 12.30 - 6.30pm on Tuesday 28th or 12.30pm - 4.30pm on Wednesday 29th September.
Want Us to Harvest Your Orchard for You?
For those with bigger orchards (8 plus trees) with advance notice, our volunteers may be able to pick, juice and bottle your harvest on Monday 27 or Tuesday 28 September for a 50% share of the harvest. Those interested should contact Valley Project Manager, Emma Sumner (
emma@grizedale.org
| 015394 41050) to register as soon as possible.
Or Just Pop Along and Find Out More:
If you don't have an orchard and would just like to come along and learn more about the juicing process, there will be juice for tasting and a few bottles for sale in our
Honest Shop
along with other delicious apple based treats.
Apple juice is a great source of Vitamin C, containing 86% of that found in commercial orange juice. Brazil is now the world's largest orange producer and their production is taking out swathes of irreplaceable rain forest, and in comparison, locally pressed apple juice is delicious to drink and cook with and has a tiny carbon footprint.