---
The cosy heart of our historic 17th century inn, serving seasonal, ethically-sourced food and a great selection of craft beers, wines and soft drinks.
OPENING HOURS:
Thursdays - 5.00pm - 8.00pm for food and 10.30pm for drinks (with live music, pub quizzes and more)

Fridays - 5.00pm to 8.30pm for food (incl. wood-fired pizza, weather permitting!), 10.30pm for drinks

Saturdays - 12.00 (midday) to 8.30pm for food, 10.30pm for drinks

Sundays - 12.00 (midday) to 6.00pm for food and 8.00pm for drinks

SAMPLE DISHES:

Pheasant casserole / Vegetable risotto / Waberthwaite sausage stew / Leek & Potato soup (made with local, organically grown vegetables) / Home-cured ham, egg & chips (based on a favourite from the inn's 1950's heyday!) / Partidge, bacon & lentils / Morecambe Bay potted shrimps / Lasagne / Plum & apple tart / Home-made chocolate sorbet / Raspberry panna cotta

We always have gluten-free and vegan options on our menu.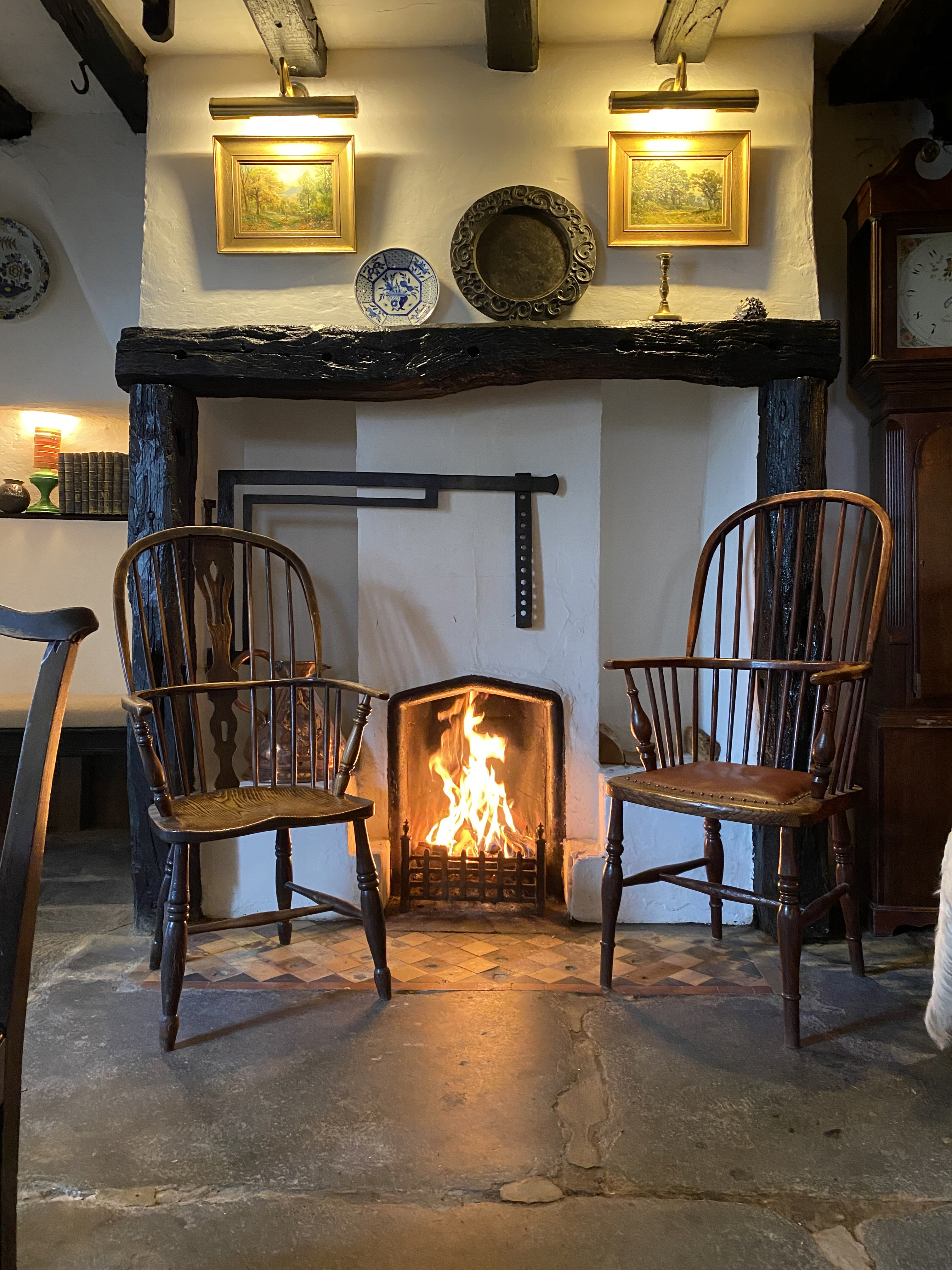 Our seasonal menu of simple, delicious dishes makes the most of what the Crake Valley has to offer. All our produce is ethically-sourced, with many ingredients from neighbouring farms and gardens. Over the colder months we'll always have a hearty soup and a stew served with sourdough bread from our local bakery, game and freshly baked pies. We make all our desserts in house, with a focus on seasonal flavours. We gladly cater for special dietary requirements - just ask.

On Fridays we fire up our outdoor wood-fired oven (weather permitting!) and serve made-to-order pizzas - takeaways welcome.

On our bar, we stock local beers from independent breweries, a variety of spirits from local and UK distilleries and an excellent organic Spanish house wine by the glass, with many others by the bottle. To champion companies doing things differently, we've found small, independent and ethical brands like Karma Kola (our staff think it's better than any other cola) and locals like Fell Brewery, Shed 1 Gin and Lakes Brew Co. Herbal tea blends are made by hand at Lawson Park, which provides the kitchen with fruit and vegetables in season too.

On our bar walls, we've hung a fascinating collection of 18th-20th century posters, prints and original paintings with rural themes, curated by Grizedale Arts director Adam Sutherland. A slightly temperamental juke box, curios, an open fire and flowers from local gardens make for a bar like no other around. Furnishings include settles and chairs which we've carefully restored and handmade lights alongside local vintage finds.

We serve food all day, but if you'd like to book a table for food, call 01229 481 160 or use our contact form here.
THIS WEEKEND'S MENU
- FRIDAY 12th NOVEMBER -
- Wood-Fired Pizza -
Classic Margherita (V), £7.00
(mozzarella, tomato & basil)
Quattro Stagioni (Four Seasons) (V), £9.00
(mushrooms, artichokes, olives & caramelised onions)
Parma Ham, Rocket & Parmesan, £9.00
Pizza Napoli, £9.00
(anchovies, capers & olives)
- Other Dishes -
Vegetable Lasagne (V), £10.00
Risotto with Wild Mushroom (VG), £12.00
Cauliflower Croquettes (V), £6.00
Chips, £3.00
- SATURDAY 13th & SUNDAY 14th NOVEMBER -
- Starters -
Vegetable Tempura (VG), £6.00
Cauliflower Croquettes (V), £5.00
Seafood Pasta
Leek and Potato Soup (VG), £5.00
- Mains -
All served with seasonal veg or a fresh garden salad, creamy homemade mash and / or chips
Ham, Egg and Chips, £12.00
Roast Game Bird, £14.00
Risotto with Wild Mushroom (VG) or Local Seafood, £12.00
Vegetarian Lasagne (V), £10.00
Pan Fried Sea Bass, £12.00
- Sides -
Winter Salad with Orange and Hazelnuts (VG), £4.00
Slow Roasted Beetroots and Crème Fraîche (V), £5.00
Roasted Broccoli (V), £3.00
Lemony Greens from Lawson Park (VG), £3.00
- Dessert -
All made in The Farmer's Arms Kitchen
Tiramisu, £4.00
Basque Cheesecake, £5.00
Sticky Toffee Pudding, £6.00
Tarte Tatin, £6.00
A selection of Ice Creams and Sorbets, £3.00
(Vanilla, Lemon Verbena, Lemon Sorbet, Orange Sorbet)